Fellowship at Midway Church supports several international mission projects as well as local mission projects.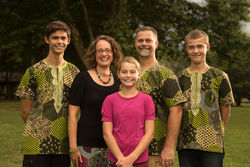 Hope Radio is based out of Togo, West Africa and is one of only three radio signals broadcasting in the area. From that location Hope Radio broadcasts the gospel into four countries. Hope Radio is partnered with The Hospital of Hope, which serves patients in the surrounding area. Daniel and Sherri Lethers and their three children Marcus, Luke, and Selah have been serving at Hope Radio since 2015. They have assisted in the construction of the radio station and will be working at the radio station while serving in the communities in Togo.
The Champion Family and SCORE International
SCORE was founded in 1984 by Ron and Pat Bishop. SCORE began as a sports ministry but now serves as a global ministry evangelizing and equipping local churches to fulfill the great commission. SCORE has spawned many other ministries including anti-human trafficking, clean water, church planting, etc. From running sports camps, bible studies, partnering with orphanages, and serving in local clinics, Eric and Christy Champion have their children have been serving in Costa Rica for the past 6 years while spreading the love of Christ.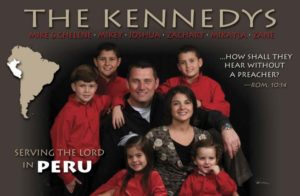 The Kennedy Family and New Life Children's Home
Mike Kennedy and his family have been serving at New Life Children's Home in Peru, an orphanage that houses some 30+ children waiting for adoption. They minister to the children as well as the surrounding villages communities. They have recently had the opportunity to share the gospel in the public schools system, in several youth prisons, and in a stadium setting serving police officers and their families food while delivering the good news. God continues to do amazing things through the Kennedy family.
Babu John has been serving at Asha Mission for many years. Asha Mission seeks to provide homes for orphaned children who come from brothels, leper colonies, and poor villages. They seek to provide education, healthcare, nutrition, and a stable home environment while sharing the word of God and in the process allowing each child to experience being a child free from fear, abuse, or child labor.
Gadsden County Pregnancy Center and A Women's Pregnancy Center
Both centers hope to educate women experiencing an unexpected pregnancy on all of the available options. They provide information and counseling in a no pressure environment. In addition they provide fatherhood programs, premarital counseling, adoption assistance, housing assistance, and financial aid.
The Good Samaritan Network and Cheslea House
Chelsea House is a local faith based residency program for women and single mom families. The Good Samaritan Network and Chelsea House provide access to a Thrift Store and it's proceed help support both missions. In addition the Good Samartan Network provides contract services ranging from lawn care to janitorial services at competitive prices.